MMD vs The Other Guys




In a crowded armor market where companies actively hide manufacturing processes, materials used, or country of origin, it can be difficult to know you are wearing the best armor, or are providing the best product to your customers.

At MMD we are transparent about our materials and the way our plates are made, so you can be sure the armor you are wearing or selling, doesn't have a deceptive strike face or isn't rebranded, subpar armor.




MMD is actively recruiting qualifying dealers in the United States & Internationally for Direct to Consumer (DTC) sellers, Military & Law Enforcement Supply Companies.

Contact us to register as a dealer.




BE FIRST
ARCTOS INDUSTRIES IS THE EXCLUSIVE MASTER DISTRIBUTOR FOR MMD ARMOR

CONTACT US NOW TO BE FIRST TO MARKET WITH MMD ARMOR IN YOUR REGION
ABOUT MMD ARMOR





An Inside Look Into MMD Armor




We believe in time-tested materials & exacting quality in every area of our manufacturing.





MMD plates employ true edge-to-edge protection.





No marketing gimmicks, no shady manufacturing practices.





MMD ARMOR proudly supplies life-saving systems to customers across North America with new distribution channels into Europe & Oceania.





MMD THREAT MATRIX
Understand Rifle Plate performance and specifications in our MMD Threat Matrix.
Selecting the right plate for your needs is very important, when ounces count and speed is essential you can easily compare plate model specs like weight, thickness, NIJ rating and rounds defeated by each rifle plate with our Threat Matrix comparison chart.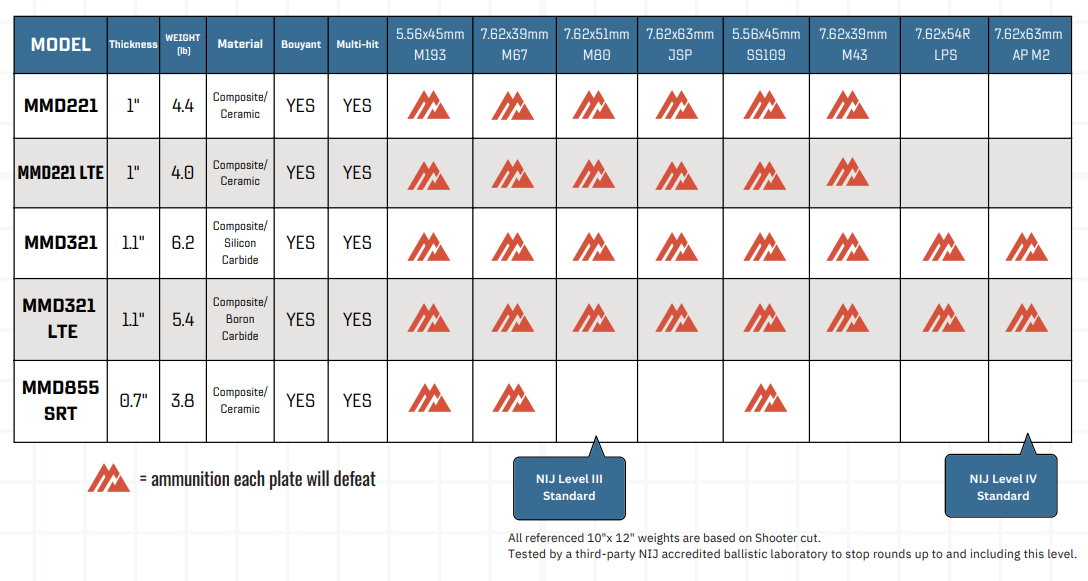 We've developed a meticulously crafted, line up of rifle plates to meet the needs of Military and Law Enforcement users.
NIJ certified and lightweight models are available and several new models are under final development in the SRT (Special Rifle Threat) and IIIA soft armor categories.
MMD Body Armor Meets or Exceeds NIJ Standards
MMD Rifle Plates undergo comprehensive in house and third party testing from accredited National Institute of Justice (NIJ) Labs to ensure the highest quality and performance standards are met.
The NIJ 0101.06 Standard sets forth armor plate ratings and minimum performance requirements for rounds stopped, back face deformation and warranty.


MMD Armor plates meet or exceed NIJ standards and accredited lab test results are available upon request for qualifying customers.